Panama - islands, local villages and manatees
Panama
Panama is so much more than Bocas de Toro and Volcan Baru. Discover the rooftop bars in the historic part of Panama City (Casco Viejo), enjoy spending time with Ngäbe originary people in their community, help protecting the sea turles and relax on the magnificent beaches.
This trip is for you if you want to leave the beaten track, if you want to experience a more authentic Panama with focus on interacting with locals and if you want to enjoy nature in a pure form. Choose for a mix between basic accommodation and more luxury lodging if appropriate. Avoid expensive tourist traps and choose for more authentic activities that are less touristic and support local communities. The whole trip can be done by using public transport.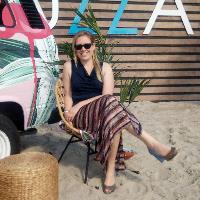 Annelies
From Belgium
37 years old
See all trips by Annelies
Add to my bookings
Customize and book
Trip from day to day
Airplane Home - Panama City

Panama City

Book a hotel or hostel in Casco Viejo, the historic part of the city and take your time to relax after your flight, stroll around and discover great restaurants and roof top bars. After a good night sleep, you can easily take the public transport (metro and bus) to visit the Miraflores Locks and the Panama Canal. Be aware that you arrive before 10 am because the massive container ships are only entering the Panama Canal in the morning.

Airplane Panama City - Bocas del Toro

Bocas del Toro: Island fun

Bocas del Toro, the main island of the Bocas del Toro archipelgo, is called the Ibiza of Panama, but in fact it is an lovely island with great restaurants, water sports and beaches. Take a direct flight from Panama city to Bocas del Toro (Air Panama) if you want to travel in the most convenient way. To save on budget, you can also take a bus. Take you time to enjoy island life. Visit Boca del Drago and Playa Estrella by public bus (departure from the park) or take a boat trip to Dolphin Bay, Cayo Crawl and Red frog beach to go snorkeling.

Boat Bocas del Toro - Bastimento

Islal Bastimento, stay overnight in an eco-friendly tent at Red Frog Beach

For most tourists Red Frog Beach is only a day trip to enjoy the great beach, but it becomes really special once all day trippers have left and you can enjoy the sunset and have a great dinner in the meantime. Book 2 nights in the Palmar Beach Lodge. Free transfer from Bocas del Toro to Isla Bastimento is includes.

Boat Bastimento - Changuinola

Humedales De San San Pond Sak, protecting sea turtles and manatees

Be part of this wonderful project with the most amazing and passionate people who dedicate their lives to protecting the sea turtles from poachers. You can join their nightly patrol, enjoy the wildlife from a canoe, test if you're lucky enough to spot manatees and of course enjoy their freshly cooked organic meals. The sleeping quarters are basic, but if you enjoy nature, this is heaven for you.

Bus Changuinola - Punte Peña

URARI Turismo Rural Comunitario at Silico Creek

Stay at a real indigenous village in Silico Creek and experience village life yourself. You can stay at the specially build accommodation at the top of the mountain with amazing views. Comfort is limited but authentic, f.e. you can shower with panoramic views. The family cooks wonderful meals for you and you can learn about cacao traditions.

Bus Punte Peña - Hornito

Valle de las Minas, Chiriquí

Time for staying in the mountains now. Visit the river canyons, go treasure hunting, enjoy the views from your hammock or learn about coffee production. Everything is possible in The Lost and Found Hostel.

Bus Hornito - Panama City

Panama City, enjoy the advantages of a big city

Time to enjoy 2 days of luxury in contrast to the authentic rural life of the last week. Choose a good hotel with at least a swimming pool and bars and restaurants closely. Have a hot shower, go shopping in the Albrook Mall, be curious at the yacht harbour and admire the skyline of Panama City.

Must-see excursions

Powered by

Albrook Mall
Amador Causeway (Calzada de Amador)
Flamenco Island
Via Espana

Airplane Panama City - Home